Chatterbox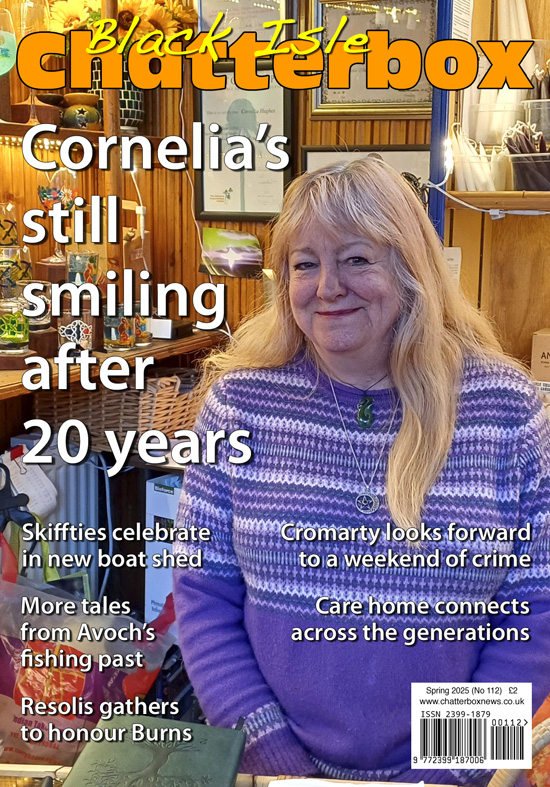 Highlands and Islands Community Newspaper of the Year 2016, runner-up 2017

If you've ever wondered why helicopters have become a common sight above the Black Isle, our Spring edition has the answer. Captain Si Hammock of Bristow Search and Rescue tells why the area is just right for training, who Fred is, and why he keeps getting thrown into the sea.
In another bumper 48-page edition – still only £1.50 – we meet accidental rower Erin Lambert of Avoch, who's been chosen for the GB team at the World Atlantic Challenge International Contest of Seamanship in Antrim in July; vet Douglas Swaffield, who's opened a new branch of Conanvet in Fortrose; and catch up with former Black Islers Alan and Stephanie McKean, now enjoying life in Dunoon.
We report from the meeting in which Fortrose pondered the future of its Town Hall and we mourn the loss of Abbeyfield in Rosemarkie.
Have you been intrigued by the new house being built on the edge of Fortrose on the Avoch road? We talk with Neil Sutherland, the man behind Makar which is making a name for itself with innovative homes around Scotland.
Also working hard for a green future is Black Isle Renewables, hidden away near Culbo. We meet director Iain Thomson. And we find out how Avoch & Killen Community Council hopes to replace polystyrene boxes in local takeaways and shops.
We look forward to more mayhem in Cromarty, when the Crime and Thrillers Weekend returns for another year, and to new community awards just unveiled in Rosemarkie.
We look back at life in the circus, tales from Fortrose Cathedral, and the extraordinary history of the battered boat moored between Avoch and Fortrose.
Enjoy pizza? Then buy one and get a second half-price until the end of March with the coupon in our latest edition.
Finally – on a more personal note – I reveal how I found myself training for this year's London Marathon after 41 years of complete sporting inactivity. Wish me luck!
Russell Turner, Editor