Chatterbox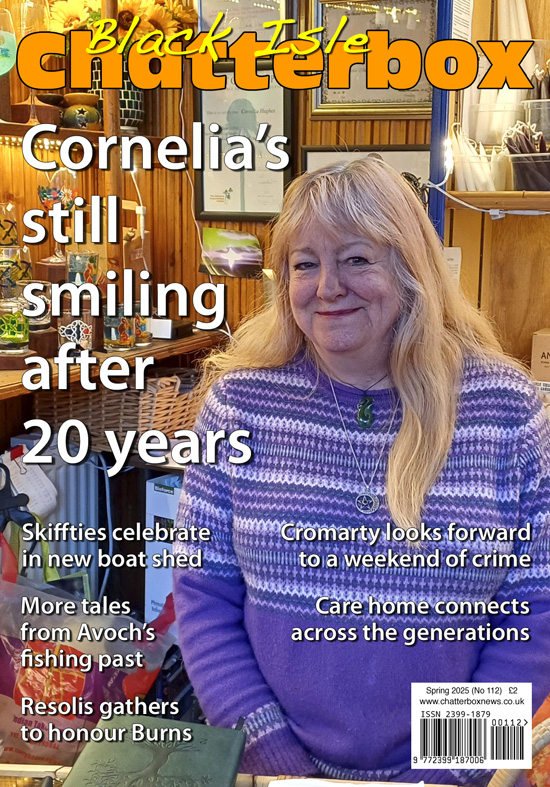 Highlands and Islands Community Newspaper of the Year 2016, runner-up 2017

If you've ever wondered how a firth filled with oil platforms, cruise liners and other maritime traffic is kept safe, wonder no more. The cover star of our Winter edition is harbour pilot Peter Taylor of Jemimaville who explains how he keeps the ships moving in the Cromarty Firth.
Not far away from Jemimaville is the strange world of Blackhaven. Never heard of it? Then listen to the podcast produced in Cromarty by writer Theo Seller (and his team) who tells us how his passion for radio found a new outlet in the digital world.
In Avoch we meet Jean and Bill Ashburner, whose devotion to bear-making has won them a lifetime achievement award, and Becca Bremner, whose hair and beauty salon has found a new use for the old doctors' surgery. Still in the village, we step inside the newly opened Black Isle Men's Shed in the Sea Scouts' Hall.
Also recently opened is IV10 in Fortrose. We look inside the Black Isle's newest eating place and learn about its plans for the future.
In Culbokie they're looking forward to a fundraising evening with two of the village's most recent residents, authors Mike and Helen Walters. We find out more.
In Rosemarkie, another author has just published her latest book. Elizabeth Sutherland tells us about Church Street and where her inspiration comes from.
Elizabeth appears elsewhere in this edition when she looks back at Curadan, the Pict who became St Boniface, and one of the best-known names on the Black Isle. Looking not so far back, to the end of the First World War, we remember how the Black Isle marked the centenary of the Armistice.
And finally, I describe how I completed my second marathon, at the grand old age of 60, and look forward to more.
All this, and more, still for only £1.50. Don't miss your copy.
Russell Turner
Editor