Chatterbox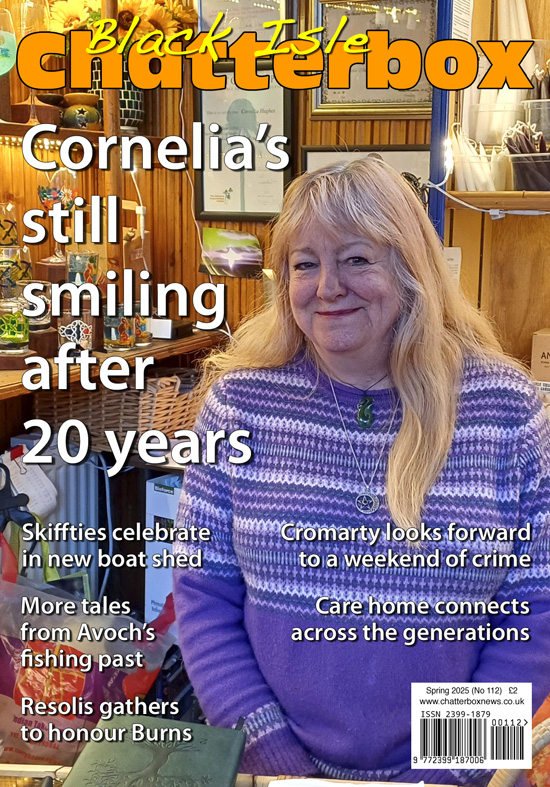 Highlands and Islands Community Newspaper of the Year 2016, runner-up 2017

Our latest cover star is the 59-year-old Newhall man who completed the London Marathon in April despite having no sporting background whatsoever. He also happens to be editor of this fine publication. Read all about my big day in our Summer edition. (And if you think it's worthy of sponsorship – I'm running again next year for Cats Protection – pop across to my giving page.)
The latest Chatterbox isn't all about me though. We meet the members of Culbokie's Man Friday Club, share memories with Colin Heape, the former factor of Rosehaugh Estate, get an update from Councillor Gordon Adam following his first year in office, and hear from US academic Connie Rodriguez, who will lead the team that hopes to uncover some of Castle Craig's secrets.
Back in Culbokie we learn the latest progress in plans for the village hub, in Fortrose we take a look at a garden which will be the subject of a very special exhibition, in Cromarty we join the team preparing for its latest Open Gardens day, and in Avoch we learn all about the hard work to improve its harbour.
The Black Isle Men's Shed continues to grow; we find out all the latest news. In Cromarty a forgotten rug will raise funds for a local project, Rosemarkie's new red tractor will help keep the village smart, and the Dolphin Bus will help keep traffic off the roads to Chanonry Point.
Cromarty Camera Club has enjoyed another successful season; we meet its winning members and share some of their images.
Out of doors, we prepare for International Bat Night and discover the less appealing side of the Moray Firth Dolphins.
So it's another packed 48 pages, and still only £1.50. Don't miss your copy.
Russell Turner
Editor