Chatterbox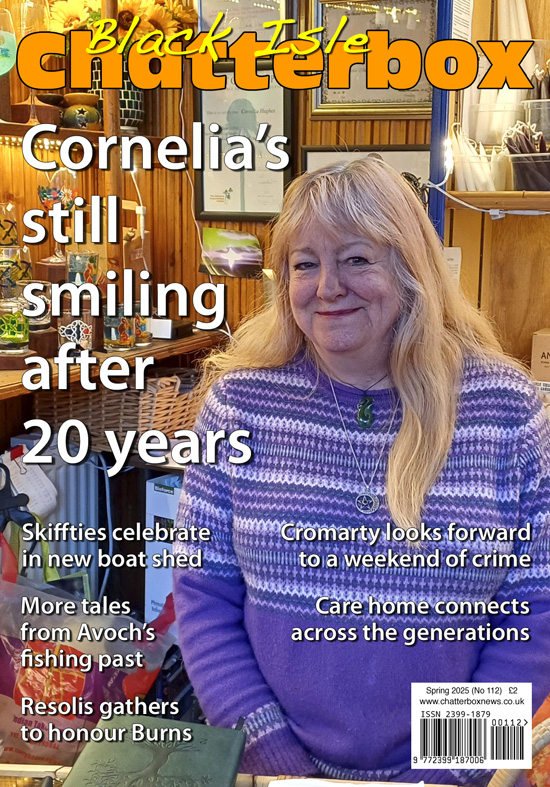 Highlands and Islands Community Newspaper of the Year 2016, runner-up 2017

When Kirkmichael's roof collapsed it would have been easy for the group dedicated to the medieval chapel's restoration to give in. It didn't, and years of effort was rewarded in April when the building had a Royal opening. Read all about it in our Summer magazine – another packed 48-page edition covering all parts of the Black Isle.
From Cromarty, we meet Jermaine Allison-McCracken who's swapped the village for Jamaica where she's the new coach of the national netball team.
In Fortrose we get to know what's really happening at the old Eilean Dubh Restaurant, about to be transformed by Emma Davies and her team into cafe, bar and deli IV10 – and definitely not a nightclub, as wild rumour had it.
In Rosemarkie we take a luxury ride in Stewart Hiddleston's Daimler, now for hire on the Black Isle, and learn about his Royal connections and his time behind the counter at Avoch Filling Station.
Avoch Sea Scout Diarmuid Martin overcame a life-threatening experience and was awarded the Medal for Meritorious Conduct. We find out what happened.
In Tore we meet Torquil and Lynn Fraser, the pair behind Black Isle Berries at Ryefield Farm, and their constant search for something new.
In Culbokie we get the low-down from the Community Trust about the visit by author Ian Rankin to kick-start fundraising for building the planned community hub.
And that's just a part of what you'll find inside the Summer Chatterbox. Don't miss your copy.
Russell Turner, Editor