Chatterbox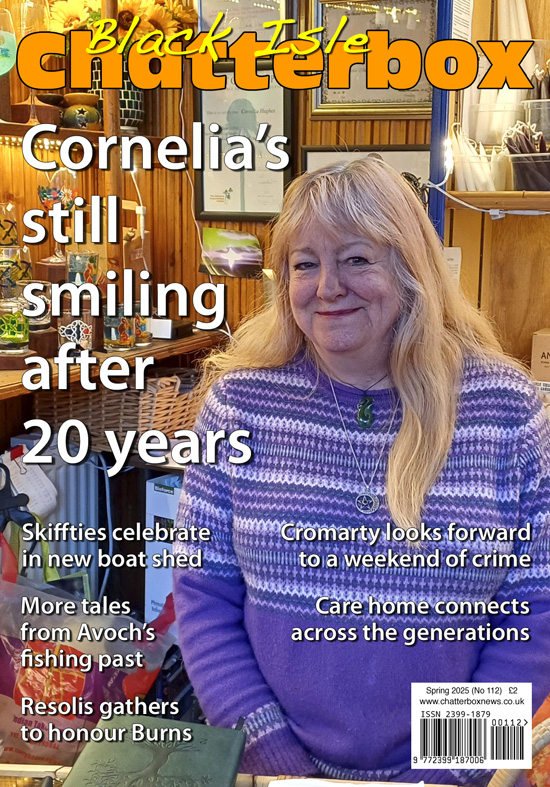 Highlands and Islands Community Newspaper of the Year 2016, runner-up 2017

Eileen Mackintosh was settled and happy in New York and enjoying a thriving career as an operatic soprano, but when the time came she knew she had to go. Now she and husband Duncan are in Fortrose, where she has established herself as a vocal coach, and she couldn't be happier. Find out more in the Autumn Chatterbox.
Still in Fortrose, we meet Gavin McLean, the Academy's new head teacher, go behind the scenes at Podiatry Plus on the High Street, and take a look at the hugely successful first community market, held at the Town Hall by Transition Black Isle.
Down the road in Avoch we catch up with young rower Erin Lambert, who's rethinking her future after success in an international competition, and learn more about plans for the all-weather sports complex in the village.
In Cromarty we discover the Australian coffee culture now thriving there and look back at the huge number of shops the village used to support.
A new writers' retreat is winning friends in Culbokie. We meet the couple behind it, authors Mike and Helen Walters. Still in the village, we learn about 3,000-year-old Teanagairn Henge, which will be open to the public in October during the Highland Archaeology Festival.
Looking not quite so far back, in Rosemarkie we talk to Vee Walker, author of Major Tom's War, which tells the story of her grandfather's role in the First World War.
Another book set during the same conflict has been a labour of love by Simon Gunn of Ferryton Point. He began researching RAF Catfirth 1918 in 1977 when he first discovered the former seaplane base while working in Shetland.
There's much more in our latest edition, including a money-off voucher for Calluna, the new clothing, gift and card shop in Cromarty. And we're still only £1.50. Don't miss your copy.
Russell Turner
Editor