Chatterbox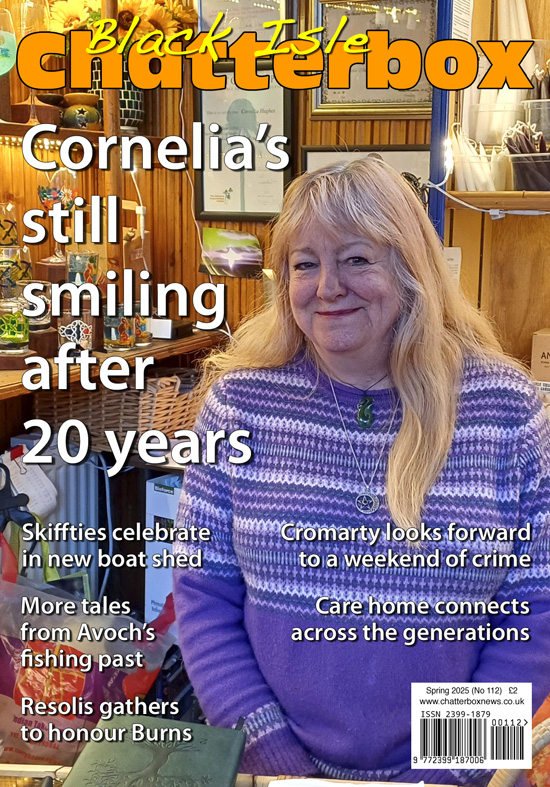 Highlands and Islands community Newspaper of the Year

We won't pretend to be modest about our new title – Community Newspaper of the Year in the Highlands and Islands Media Awards. We were delighted to be named, and we hope that our Spring edition proves us to be worthy winners.
Anna and Neo are our cover stars, captured by rising Rosemarkie photographer Nynke Jansen. Find out all about her and see more of her superb portrait photos in this issue.
Also making a name for herself is title-winning strongwoman Karen Sutherland, whose roots are in Avoch, and we learn all about Fortrose race car-maker Jim Sword, currently hard at work on the eighth racer to bear the name Jasag.
Looking back, we examine the Black Isle's link with the ill-fated World War II ship Pilsudski, relive memories of Rosemarkie in the 1950s, roam the high seas with Pyjama Jock, and uncover the not-so-Friendly Society that served Avoch in the early 19th Century.
Looking forward, we anticipate the arrival of star authors in Cromarty, including Val McDermid and Ian Rankin, for the latest Crime and Thrillers weekend. At Kirkmichael, 2016 will be a vital year for the renovation and development of the historic building – we discover what's planned. And we team up Fortrose and Rosemarkie bowlers in getting ready to welcome two stars of the game to their green.
The Cheese House in Cromarty has a new home – the Old Police House. We're on the case. Also, we find out why a Black Isle bee swarm is not a bad thing, learn the latest about Avoch's castle investigations, get up to date with Culbokie Community Trust, and find who's looking for a new home at Munlochy Animal Aid.
And if you need any other reason to buy Black Isle Chatterbox, we have a coupon for another pizza deal with Sutor Creek. Buy one during March and get the second half-price.
All this, and we're still only £1.50. Don't miss your copy!
Russell Turner, Editor