Chatterbox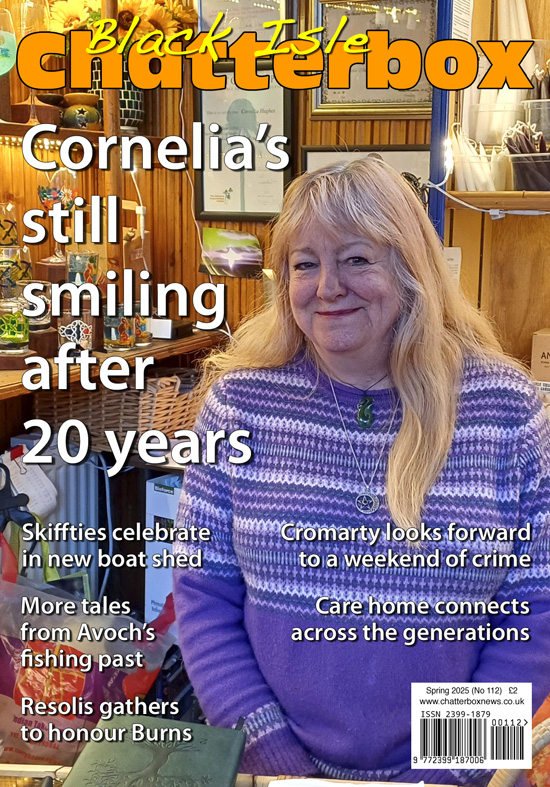 Highlands and Islands Community Newspaper of the Year 2019 and 2016, runner-up 2017

Fortrose Cathedral is one of the Black Isle's greatest attractions for tourists, and loved by locals too, so it's surprising it's taken so long for a children's book about its origins to be created. In our Winter edition we meet Highland Cathedral author Elizabeth Sutherland and illustrator Rachel Bevan Baker.
Still in Fortrose, we look back at the once mighty Castle, its rise and fall, and the tiny fragment that's all that remains.
A more up-to-date building – still under construction – is the Cromarty Cinema. Tanya Karlebach of Cromarty and Resolis Film Society tells us how work is progressing.
Someone else with a tale to tell is former Resolis Primary headteacher Anne Law, currently in Nepal on her second stint there with Voluntary Service Overseas where she is helping girls access education.
Back home, we meet Frances Jamieson of Munlochy who has her eye on premises in Avoch for her first optician's business.
We stay in the village where three stalwarts of Avoch and Killen Community Council have stepped down after many years as office bearers. Two of them – Mary Smyth and Sarah Dunton – look back on their achievements.
Also stepping down is Anne Scott, who in her time with the RNLI's Chanonry and District Fundraising Branch has been president, souvenir secretary, organised collections and served on the committee. Branch members bid her farewell with afternoon tea.
Afternoon tea was also called for when family members gathered to celebrate the 100th birthday of Margaret Mackenzie from Culbokie. We learn more about her life.
Two Rosemarkie-based choral groups are in good voice but always on the look-out for new members. Black Isle Acappella meet at Gordon Memorial Hall, also used by Village Voices (who also meet in Lodge Seaforth, Fortrose). Look inside our Winter edition for more about the groups.
That's just some of what you'll find there, and we're still only £1.50 – don't miss your copy.
Russell Turner
Editor