add to itinerary
Fairy Glen RSPB Reserve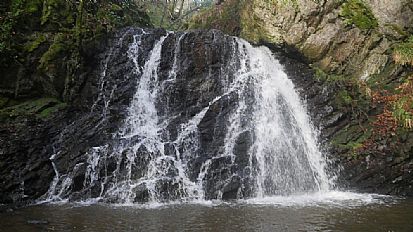 The tall, friable cliffs here are earth pillars, a rare feature created when a glacier recedes.
Please keep your dog under close control, particularly during the nesting season for birds.
Keep an eye open for the otters which live up the glen. One uses a local boat as a larder, hoarding tasty but smelly titbits such as headless eels and crabs.
If you spot the 'penny log' near one of the rock-pools, don't be fooled: this is left over from a 1970s film set and is not as old as it looks, though many will tell you it has been there for much longer!
Postcode for Satnav: IV10 8SJ
Website: rspb.org.uk/reserves-and-events/find-a-reserve/reserves-a-z/reserves-by-name/f/fairyglen
Facebook: facebook.com/pages/RSPB-Fairy-Glen/971479382959013
Hidden Black Isle offers you the chance to tailor-make your own trail around the Black Isle based on your direction of travel and the time you have available. Please note this trail is curated by Verity Walker as part of the Kirkmichael Trust's 2016/7 partnership project with the Black Isle Tourism Team. All information provided is accurate as far as we know. Additions and corrections welcome. You can contact Verity here.