North Kessock Summer Festival
Further full details of all the events on July 31 and August 1 are provided below the poster. Do scroll down the page for the details.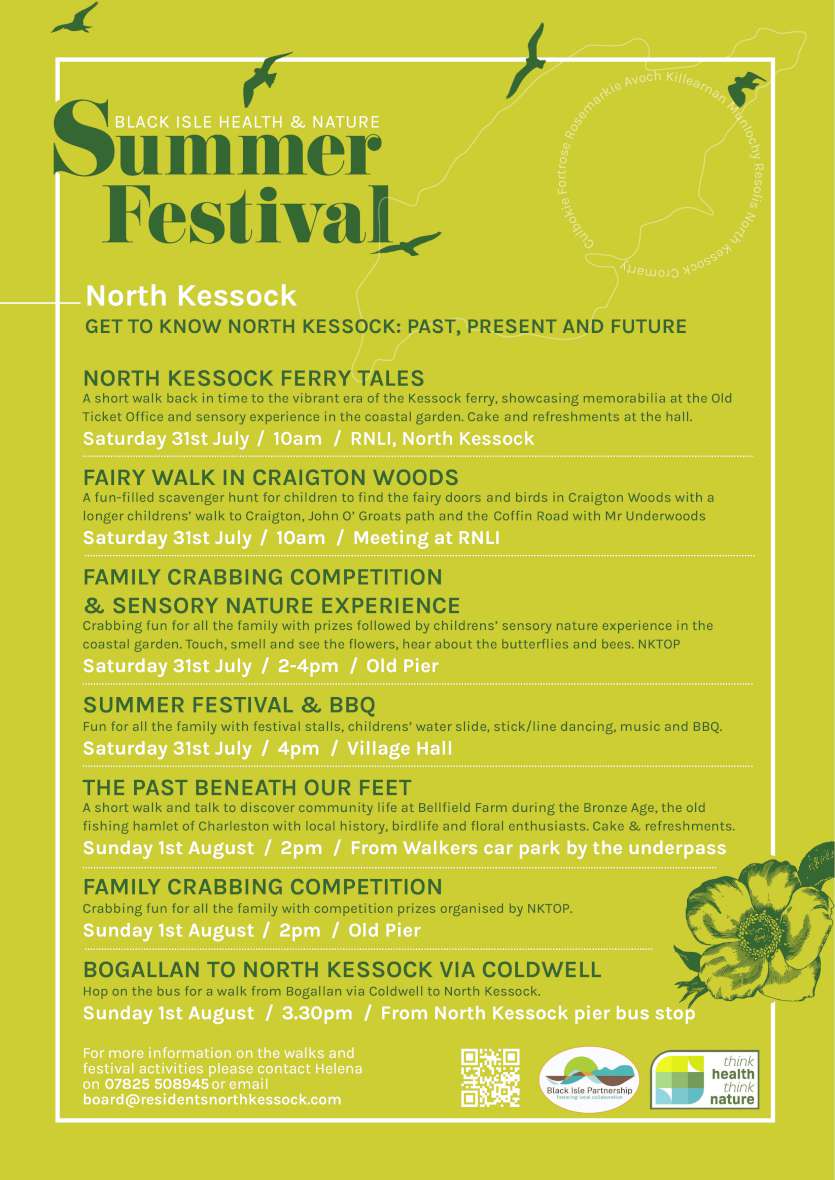 It is with great excitement that we announce the forthcoming Black Isle Health & Nature Summer Festival which will take place in North Kessock and across the communities of Killearnan, Munlochy, Cromarty, Resolis, Culbokie, Fortrose and Rosemarkie over the weekend of Saturday 31st July and Sunday 1st August.
A full programme of activities has been created for the whole family with contributions from local community groups, residents, parents and children for a summer festival feel in each village to celebrate the benefits of being out in nature to boost your health & wellbeing in the summer. We invite you to check out the poster and join some, or all, of the activities which include:
Get to Know your Village Walks - North Kessock Ferry Tales (Sat 10am) and Past Beneath your Feet (Sun 2pm)
Childrens' scavenger hunt in the woods (Sat 10am)
Family crabbing at the pier (Sat & Sun 2pm) and Kids Sensory Nature Trail (Sat 3pm after crabbing) – a sensory nature experience starting in the coastal garden
Outdoor BBQ and festival at the village hall (Sat 4pm-7pm) – gazebos and stalls on the green space with community BBQ, music, line dancing, kids' water slide and fun activities for the whole family.
Walk from Bogallan via Coldwell to NK (Sun 3.30pm)
Two of the walks look at Our Community: Past, Present and Future where you'll travel back in time to hear stories of the Kessock Ferry with the Bronze Age community living in huts at Bellfield with contributions from the North Kessock & Local District History Society and local birding, wildlife and plantlife enthusiasts will show us the variety of species living along our coastal shores. Participants will receive village maps to annotate with their ideas to create a more inclusive and accessible village which enables people to get out and about to improve their physical, mental and social health and wellbeing and to help protect our environment. For example, identifying pockets of land for community growing and orchards, benches, bins, children's play areas and village spaces for welcome signs and floral displays. The aim is to create a friendly and welcoming community for people of all ages, abilities and backgrounds to enable access to green and blue spaces for users of wheelchairs, buggies or mobility aids so that people can experience the joys of meeting family, friends and neighbours in the great outdoors.
The poster has details of the range of festival activities taking place in North Kessock including the dates, times and meeting places throughout the village. The full programmes of festival walks and activities taking place across all the Black Isle villages can be found at www.Black-Isle.info. Posters are up in all the villages and have QR codes linking to the Black Isle website for updates, information and details of how to book certain walks.
For more information and if you would like to contribute to any of the festival activities or provide support, please contact Helena at board@residentsnorthkessock.com or call 07825 508945.