Munlochy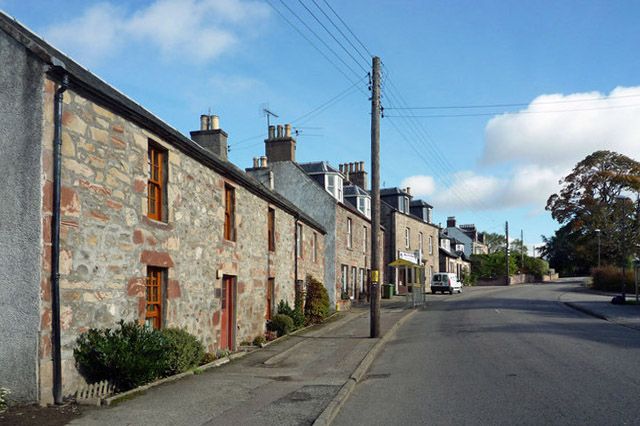 Munlochy is a small village on the B9161, to the west of Avoch. It sits at the head of a deep bay, at the mouth of which is Wood Hill to the north, and Craigiehowe to the south. Both of these are rounded hills with dense woodland, though Craigiehowe has a more rugged coastline where there are several interesting caves. At the head of the bay, the ruins of an ancient tide-mill can be seen.
The village itself is surrounded by rich farm and woodland, and in the surrounding countryside are several historic buildings, including Old Allangrange House, near which are the ruins of Allangrange Chapel.
The Clootie Well, on the A832 just behind the village, is of much more ancient origin. It was originally the home of a fairy to whom a gift of cloth was given before drinking the health giving and luck bestowing water. The well was later incorporated into the Christian religion, and became known as St. Boniface's Well. The trees and bushes for some distance around are festooned with rags, and a visit into the trees beyond the well is a somewhat eerie experience.
For a fascinating look at the history of the area see the Archaeology for Communities in the Highlands (ARCH) report Remembering Knockbain Parish.
It is in the field of birdwatching, however, that Munlochy Bay is perhaps most well-known. With its extensive sand and mud flats, and its areas of salt flats, it is a haven for a huge variety of wading birds, ducks and migratory birds. It is a Site of Special Scientific Interest.
Whether it's the wildlife, the history or simply the beautiful surroundings, explore Munlochy with the help of the ARCH leaflet "A Walk Around Munlochy Village".