add to itinerary
Old Cullicudden Burial Ground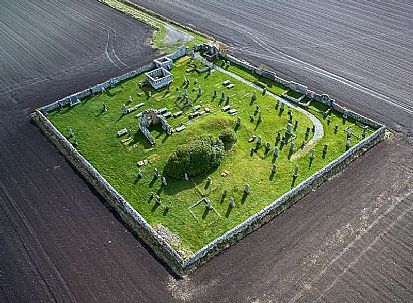 Several of the stones shortly to be displayed within Kirkmichael come from Old Cullicudden Burial Ground, the latest in a series of re-uses down the centuries. It is common for tombstones to be used many times.
Of the old kirk building here, only the Aisle of Ardullie remains standing, possible because it was re-used as a mausoleum many centuries ago. Sadly maintenance works and weather were causing too much deterioration to leave the most fragile stones here in situ, but they have been respectfully replaced by plain sandstone slabs. Many interesting stones are still present however: look for the 'pierced hand and chalice' stone to the south-west of the Aisle of Ardullie. This style of carving it a rare pre-Reformation survival.
Look around and you will see three boar heads on many features near the gate: these are the emblem of Clan Urquhart.
Feel under the top step of the 'louping-over stane' step on the inside of the kirkyard and you will feel surprising evidence of the practical re-use of early carved gravestones!
This intriguing site is signposted towards the sea off the long, straight 'Firichean' road which runs through Cullicudden (look out for a carved squirrel nearby). Turn opposite the sign towards the sea and park in the large farmyard at the end of the road. The track down towards the sea from here will take a vehicle and there is space to park and turn below, but it can be overgrown and slippery to navigate by car.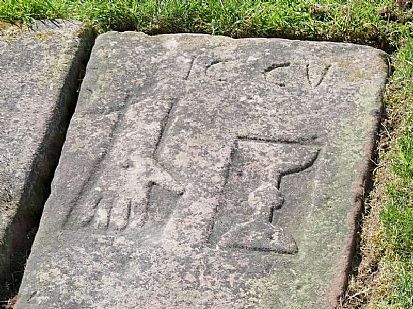 Postcode for Satnav: IV7 8LL
Website: kirkmichael.info
Facebook: facebook.com/KirkmichaelTrust
Hidden Black Isle offers you the chance to tailor-make your own trail around the Black Isle based on your direction of travel and the time you have available. Please note this trail is curated by Verity Walker as part of the Kirkmichael Trust's 2016/7 partnership project with the Black Isle Tourism Team. All information provided is accurate as far as we know. Additions and corrections welcome. You can contact Verity here.