Chatterbox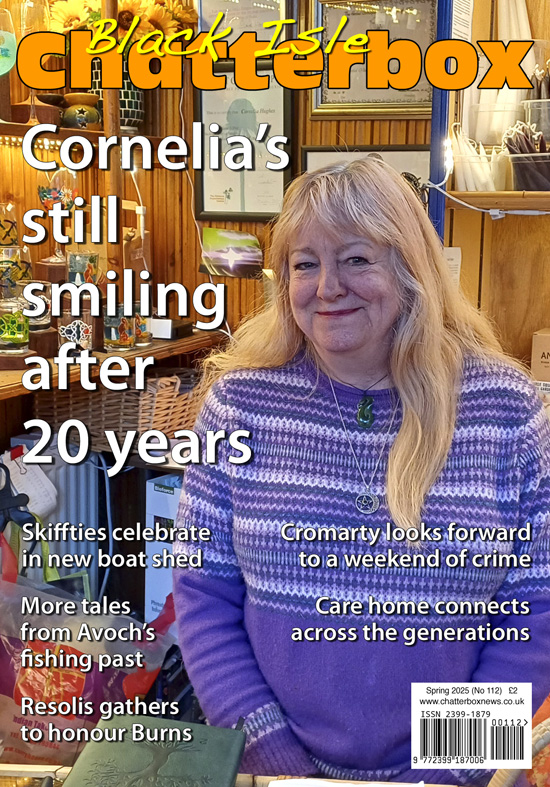 Highlands and Islands Community Newspaper of the Year 2019 and 2016, runner-up 2017

The Flying Pharmacist is covering several Highland premises, including Boots in Fortrose, and has quickly become a popular personality. In the Autumn Chatterbox we meet John Osuku Opio, who arrived on the Black Isle from Uganda – via France and England.
We also meet Peter McIlhenny, the man behind our crossword, who reveals what it takes to create a tricky puzzle and why a new name can be a refreshing change.
The summer saw the return of nautical action in the Moray Firth. We report from the Avoch Regatta, back for the first time in six years, and the Ness Cup, Chanonry Sailing Club's annual race.
Back on dry land, Broomhill Riding Centre staged a fun day in aid of Ukraine while Cromarty Courthouse Museum highlighted the story of bees with a garden trail. We share their stories and photos.
Some dramatic images are featured in the Culbokie Community Trust's fourth Black Isle Photo Competition. You'll find the winning pictures and some of the runners-up in our latest edition.
If you're looking for a good way to enjoy the local scenery, but without a camera, the Black Isle Runners may be what you need. The founders of the newly-formed group describe what they've been up to, where they've been, and why running is for everyone regardless of age or physical ability.
For a less taxing look at local nature, Chatterbox reporter Sandy Mitchell delves into the world of plants and discovers a treasure trove of facts in a long-overlooked book.
Looking back, we've archive photos of the Kessock Bridge construction to mark its 40th anniversary, and looking ahead, we've news of the return of the Black Isle Gathering, how you can help and how you can take part.
All this, and more, for only £2. Don't miss your copy.
Russell Turner
Editor